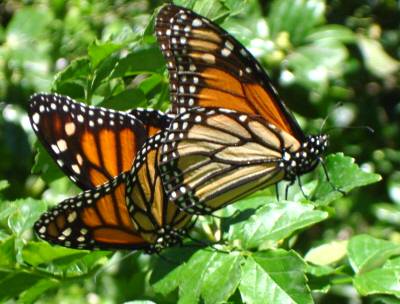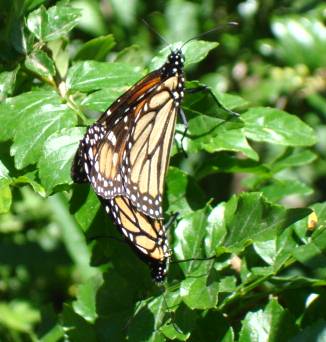 Texas backyard -- coupled Monarchs, April 6, 2008.

Not much fade, probably 1st generation northbound.

Male has a bit more fade than the female, she looks

"new".  Two other females and another male seen

at the the same time.  One of the females obviously

faded.  These two were still around, coupled, two

hours later while a female spent over an hour

visiting backyard curassavica and depositing

eggs on her on good time.

Photos and webpage by Harlen E. and Altus Aschen

Copyright © 2008 Harlen E. and Altus Aschen

Port Lavaca, Calhoun Co. Texas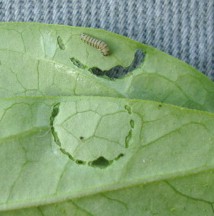 Baby larvae circles ...

Their equivalent of "notching" to reduce the

amount of latex.  Latex can be seen smeared

to the outside of the circumference, but seldom

in the inside ... then the inside is eaten away,

leaving the holes ... what we call "larval activity".

Below a larger bruiser notching the petiole of a

curassavica leaf in the classroom to also reduce

the amount latex to the leaf.  In both cases to

hopefully prevent their chewing apparatus

from getting gummed up and to increase their

survivability.  Note the webbing in photos below.

Photos and webpage by Harlen E. and Altus Aschen

Copyright © 2008 Harlen E. and Altus Aschen

Port Lavaca, Calhoun Co. Texas